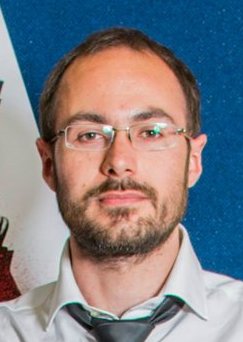 Giorgio is the Advanced TEM Officer in charge of user access to the microscopes. He works with Cate Ducati and Paul Midgley on the EM characterisation of materials for optoelectronic applications, including solar cells and light emitting devices. Currently he is focussing on perovskite-based solar cells and LEDs, but also involved in several projects including catalysis and microelectronics. He is employing and developing in-situ solutions for the investigation of nanostructured materials and devices. Giorgio is a Senior Member at Darwin College.
Since 2019 Giorgio has been involved in the Cambridge Pharmaceutical CryoEM Consortium, adapting microscopy approaches from Life Sciences to Materials applications. 
He collaborates with several groups for the characterisation of nanostructured materials using high resolution imaging, STEM-EDX and EELS and Focused Ion Beam (FIB) tomography and sample preparation. He also carried out consultancy projects for industrial clients involving characterisation and elemental analysis of devices and nanoparticles.
Giorgio holds courses for the first year PhD students in the Department - SEM in Michaelmas and Microanalysis in Lent - as well as introductory lectures on electron microscopy and microanalysis for MSM and Physics.
An updated list of publications can be found here.
A gallery of post-processed electron micrographs can be found on his flickr page.
This is a macro for imageJ that can batch-convert .emi/.ser files into .tiff . Instructions inside the file.
[Update] You're probably better off using the updated version here, by Jędrzej Morzy.
orcid.org/0000-0003-2775-610X